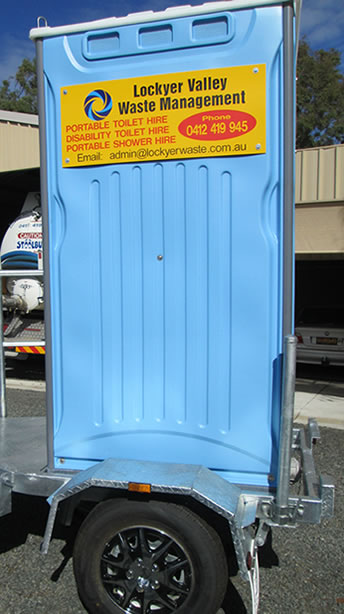 Lockyer Valley Waste Management handles high-quality portable toilets for events, functions, festivals and more to a wide variety of commercial and industrial clients, including cafes, hotels and aged care facilities. Whether it\'s one portaloo, a septic system with multiple holding tanks or a sewage treatment plant, no job is too big or too small. We can also set up a regular pump and clean for your quarterly service: let us take care of everything so you don\'t have to worry about the details. Contact us today to discuss your portable toilet waste management needs.
Single toilets                                                   Disability Toilets
Toilet Shower Combo                                   Double Toilet Units
State of the Art Portable Toilets. 5* Rated for all of your events. Available Daily, Weekly or Weekend hire at competitive rates, GST inclusive. Delivery and pick up included in rates.
Residential
Fast, reliable service for your septic tank, grease trap or other waste systems.
Commercial
From portaloos to sewage treatment plants, no job is too big or too small.
Portable Toilet Hire
Perfect for events, parties, farming hire, and more.
24/7 Emergency
Facing a waste emergency? Call us any time, day or night, for a quick response.
Location
Lockyer Valley
QLD 4341, Australia
Working Hours
6:00 AM - 06:00 PM
Monday - Sunday

John Schollick is proud to be 'The Local Bloke' offering the highest standards of domestic and commercial waste management in the Lockyer Valley since 2002.